Tournament Founder
Back in the fall of 1995, Crump Kirby was attending a SBMC Board of Governors meeting talking about raising money for our then newly founded Youth Achiever Program. They talked about raising a few hundred dollars, spending hundreds of volunteer hours having just a couple of events. Then it hit him! He was already involved in three other charity golf tournaments in town: The Methodist Hospice Tournament, The Girls Scouts Tournament and the Doug Milne Memorial Tournament. So he made a motion at the Board meeting to start our own charity golf event. He enlisted the help of someone he knew he could count on, Jay Cann. The rest is history.
The first year (1996) they raised about $3,400 and every year since then, were able to increase the amount raised for the Youth Achiever Scholarship Fund. Over the years our tournament has raised many thousands of dollars to help our young people in the community to attend college.  As Crump passed this year, it was only fitting to rename the tournament in his honor.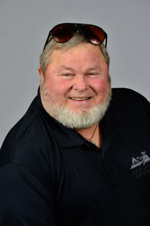 He worked very hard over the years with Jay, knowing they would do their best to make this event better and better.
It is very fulfilling to give support to our wonderful YAP students.
These dedicated kids arrive at school early and stay late. Rain or shine, they work hard to keep their fellow students safe as school safety patrols; understanding good grades keeps them on patrol. Our YAP children are the future, and with the support of the SBMC, it is looking very bright.
Crump Kirby, thank you for your vision, and all of the support over the years while the annual tournament grew bigger and bigger.
Rest in peace, our brother.  We will miss you.